Back in October when we launched our website, we set a self imposed target that we  "…will build a prototype house by March 2016".
Whilst we have made enormous progress this year, we had to acknowledge the necessity to extend beyond this deadline for a fully completed demonstration model of the ecokit house.
The reason for the timeline stretch is simply that when you are attempting to bring things together in a uniquely different way there is no established blueprint to follow. We are creating a new system, not just building a house (although many people would tell you this is hard enough!).
We are currently working on turning the house into the kit – our aim is to make the kit the easiest construction available in Australia so ANYONE without any previous building experiences would be able to construct it. We are designing all the elements and testing the structural integrity, required to create a fundamentally different system – one that enables the delivery of high performance buildings by ordinary citizens having little formal skills or training in construction.
Below is a little peak into the proposed system: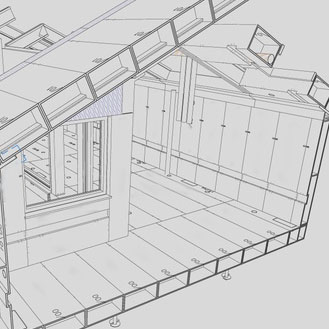 Our development progress is aimed to make the building affordable over the life cycle, more adaptable to changing needs, stronger, safer and more resilient, with healthier building materials to dramatically reduce the effects of synthetic chemical off gassing into the indoor environment. What we are doing is pushing at the edge of innovation. 
Our tasks for the next few months are:
Building the prototype to further refine the look and feel of the house
Assembly testing to improve reliability and prevent leaks
Experience testing to optimize the construction
Material testing to ensure durability
We look forward to updating you on our ongoing progress.
All the best,
the team at ecokit